The Account Based Marketing Playbook
A step-by-step guide to defining your target accounts and closing more deals
97% of marketers agree that Account Based Marketing yields higher revenues than other marketing efforts, yet fewer than 20% of organizations have actually implemented an ABM strategy.
- Terminus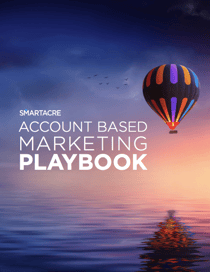 Beat the odds with our Account Based Marketing (ABM) Playbook. We take you step-by-step through the process of setting and implementing an Account-Based Marketing strategy both sales and marketing can get behind.
Download your playbook to:
Gain a clear understanding of ABM and how it is used to drive more qualified leads.
Build a target account list with buy-in from sales.
Learn about and employ various ABM marketing tactics.
Enable sales with a well defined marketing-to-sales hand off.
Measure and refine to deliver outstanding results and create real revenue.
Download your free playbook
About Us
SmartAcre® is a demand generation marketing agency who helps your business connect and engage with people throughout the buyers' journey. From conversion optimization to lead nurturing to sales enablement, SmartAcre unlocks the potential of marketing and sales technologies through consulting, implementation, and managed lead and demand gen campaigns.